Ventrac 4500Z
32.5 hp Gas
Click this link for the model comparison.      4500 INFO SHEET
Ventrac 3400L 20HP Gas Air Cooled V-twin Vanguard Engine
When you need the power and versatility of a compact tractor, but want the maneuverability and visibility of a zero turn mower, the Ventrac 3400 will give you the best of both worlds and more. Engineered with an innovative articulating frame, the 3400 tractor is the industry's best combination of visibility, maneuverability, power and versatility. Find out how this ideal combination can turn the work you have to do, into the work you love to do.
The HB580 Power Broom is designed for sweeping and removal of material such as snow, leaves, dirt, light gravel, and even thatch. A corner-less frame design permits sweeping against curbs and allows for the cleaning of corners.
The HB580 Broom can be hydraulically angled left or right and lifted up or down all with the S.D.L.A. Control
An optional electric actuator allows the operator to adjust the speed and direction of the broom rotation, maximizing effectiveness and allowing the operator to reverse broom rotation, all from the seat of the tractor.
The broom stands alone when detached and can be easily reattached. A self-leveling feature keeps the broom horizontal at all times, and the nylon bristle broom cores can be changed in just a few minutes
Available in 60 or 72 inch!
Ventrac HM2 series Side Discharge Mowing Decks are designed and built to be the best cutting and longest lasting finish mowers available. A rugged all steel reinforced carrier frame incorporates a full length rear roller that maximizes grass striping of this ground floating deck.
The progressive flow deck design allows for grass to move quickly and efficiently out the discharge chute improving the quality of cut. Ventrac's LAS (Linear Adjustment System) provides cutting height selection of 1⅛ to 4¾ inches (2.86 to 12 cm). A single hand adjustment lever allows for a quick change in cutting height.
Ventrac's RTF (Return To Form) Discharge Chute allows you to come in contact with obstacles and not damage the chute, it simply returns to its original form. No longer will you have to worry about bending or removing this important safety item.
The deck can quickly be tilted to a near vertical position for cleaning, transportation, storage or sharpening blades. Simply remove two pins, flip the deck up and reinstall the pins, it is just that simple.
The KY400 Trencher is capable of trenching up to 40 inches (102cm) in depth with a 5½ inch (14cm) wide cut. It is designed with dual Push-N-Pull cylinders to assure positive boom control for digging, boom lift, and transport. The terminator/cup combo chain offers carbide cutting tips for excellent cutting performance in a variety soil conditions. Digging teeth bolt onto the chain for easy replacement. The KY400 attached to a VENTRAC 4000 Series tractor gives the operator the ability to maneuver into hard-toreach locations without damaging the turf like a traditional track unit would.
Ventrac Power Buckets are a must for any Ventrac owner. The scoops are great for transporting material such as soil, sand, gravel, mulch, debris, snow, and much more. Used for landscaping, excavation, backfilling, leveling, digging and grading, the Power Buckets are an indispensable attachment from construction sites to your own backyard, allowing you to say goodbye to your old wheelbarrow.
When turf compaction caused by foot or vehicle traffic, sporting events or other stresses is a problem, periodic aeration is necessary to keep the turf healthy.
The AERA-vator is designed to stir and loosen the soil beneath the sod without destroying the turf. The EA600 creates a core hole without bringing a core plug to the surface, leaving the turf ready for use immediately after treatment. Six holes are created each foot (66 holes per square meter) and hole size is regulated by drive speed– the slower the drive speed, the larger the hole.
Ventrac SA250 Drop Spreader
The Ventrac Sidewalk Drop Spreader is the ultimate tool for spreading an array of deicing materials with precision flow control. Designed with a narrow frame and a 40″ drop pattern, this spreader is ideal for spreading material on sidewalks and other narrow walkways.
Material is evenly distributed using a unique compression roller system. An easy gate adjustment allows for fine tuning flow rates based on the type of material being spread and the desired quantity being applied. The wireless remote control regulates five motor speeds for quick flow adjustments from the operator seat.
The stainless steel hopper prevents premature failure due to rust and corrosion. The innovative agitation system prevents material bridging and eliminates the need for a traditional, noisy vibration motor.
Universal mounting options are available for a 2″ receiver hitch or a category one three-point hitch.
STANDARD FEATURES
Capacity 2.5 ft3/200 lbs
Wireless Remote Control
Stainless Steel Construction
Hopper Cover
Universal Mounts Available
Innovative Agitation System
2-year commercial warranty
Low Maintenance Design
12V electric drive/transmission
Reliable LEESON® electric motor
Spread coarse materials such as bulk salt, and sand, as well as free flowing material such pelletized material and calcium flakes
 Ventrac KL480 Tiller
The KL480 Tiller is designed for easy preparation of gardens and yards. This power-driven front-end attachment allows the operator to easily monitor the Tiller's performance. Designed with the Ventrac Mount System, the Tiller can be attached in a minute or less and comes with a stand for storing the Tiller when not in use. A number 80 chain in an enclosed final drive is lubricated for heavy-duty performance. Skid shoe adjustments facilitate cutting depth. Twenty-four high carbon steel tines are sequentially spaced to provide smooth and efficient tillage.
New Walker 25i
25-HP Kohler OHV V-Twin engine with DELPHI Electronic Fuel Injection
Tilt-open style body and chassis
Shock-mounted instrument panel
Remote air intake for engine
10.0 bushel (12.4 cu. ft.) catcher
10.5″ (27 cm) grass handling blower
Splined PTO drive shaft with quick-disconnect coupler
4.7 gallon (17.8 liter) fuel tank
7 mph (11.3 kph) ground speed
Available in Side Discharge (SD) model
Walker S14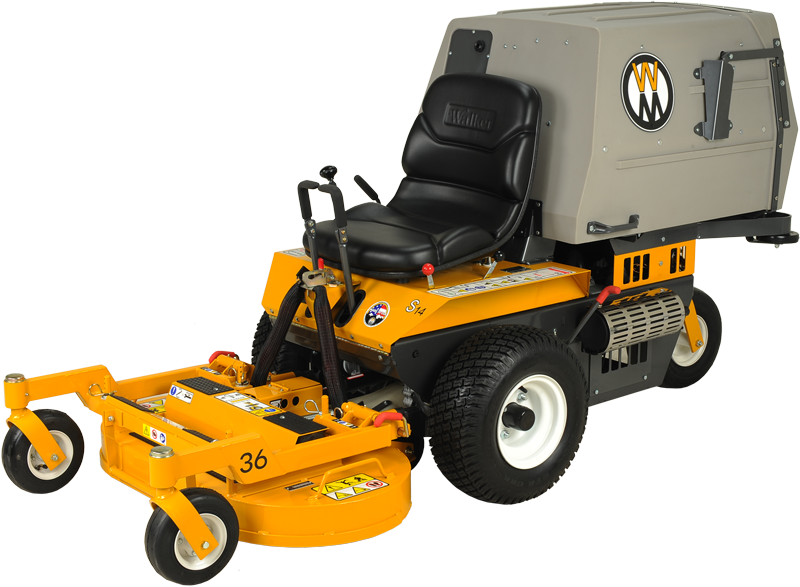 Type: Collection (NonCollection option available)
Power: 14 HP Engine: Subaru
Ideal Application: Residential Properties,  Small Commercial Properties
Key Attributes: Compact, Agile
Key Engine Specifications Manufacturer/Model …………………….Subaru Robin, EX40, 1 cyl. Displacement ……………………………….404 cc (24.65 cu. in.) Max Power ……………………………………14 HP @ 3600 RPM Max Torque …………………………………..19.9 ft-lbs Fuel ……………………………………………….Gasoline (unleaded – min. 87 octane)
Fuel Capacity ………………………………..1.9 U.S. gal (7.2 liter) Cooling System…………………………….Air
Compatible Decks •  Collection – C36R, C42, C42R •  Discharge – S36, S42, S42B •  Mulching – M36, M42, M42A, M42B
Attachments
• Dethatcher • Boom Sprayer
•  Single-Stage Snowblower
• Dozer Blade
• 1 8 x 7.00-8 AT Tire • 1 8 x 8.5-10 Turf Tire • 1 8 x 9.5-8 Turf Tire • Tire Chains
• P neumatic Deck Tire • Comfort Seat • Armrests • Large Hole Screen
• Utility Bed • Break Away Blades • Adjustable Footrests • Curb Jumper